Co-relate Talks To... Rebekah Robertson
Co-relate Talks To... Rebekah Robertson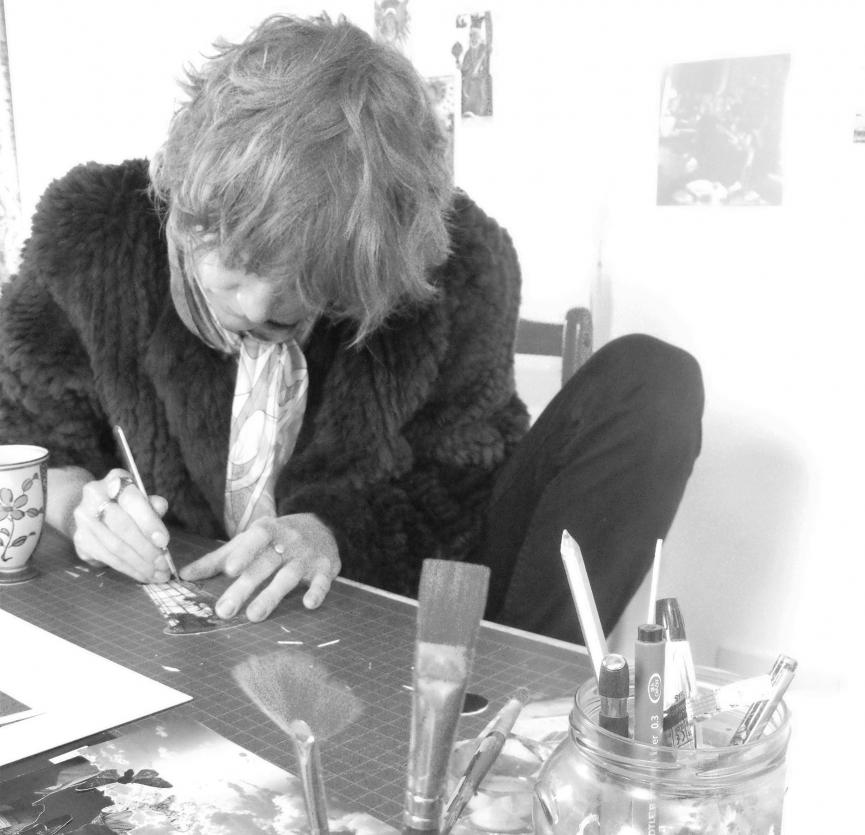 Rebekah Robertson is a content and events producer here at Co-relate but mostly she's a multi-disciplinary artist currently based at Fire Eyeland studios, Margate. Her creative practice spans music and songwriting, screenwriting and visual art, and her work is driven by a passion for collaborative relationships. Her catalogue of live events, film projects and studio recordings are rooted in collective creative processes that reflect life, embody transformation and envision a better world. She has over a decade's experience as a copywriter with a lyricist's ear for words, and a focus on projects oriented around social transformation.
Here's what Rebekah told us in response to our questions!  
What's your role and what sort of work does that involve?
Content and events producer – so that's basically making things, either by myself or finding and working with other people. Stories, articles, scripts, soundtracks, videos; I create work or else collaborate with other artists and creators. And then I love curating live events, especially ones that combine different artforms. The main driver for me in my work is my own feeling that art at its best elicits that overwhelming, childlike sense of wonder that you get from an incredible gig, or jaw dropping film, or unforgettable book. Something that transports you beyond yourself and connects you for a moment to, you know, the Big Whatever; the thing that isn't us; the thing that's all of us, every particle of the universe. That feeling is what I'm striving to help people get to, every once in a while, for its own sake and because for me, that's my most generative source of hope.
What are you working on right now?
I'm afraid if I told you I'd have to kill you. But in vague, non-life-threatening terms: I'm producing a documentary about an exceptionally inspiring septuagenarian, and a short film about – the order of the day – isolation and connection. These are both with long-time collaborator and sublime director, Deniz Kavalali who I know is going to create two sensitive, gorgeous and inimitable films. I'm developing a radio project that's kind of an audiobook with an experimental score all done on cassette tape – for kids! But I think grown-ups will like it too. I'm also playing lots of guitar because I want to be out busking as much as I can this summer. I miss live music so much and busking is one of my favourite ways to perform – sun, songs and strangers, the perfect way to spend a day.
Do you have a side hustle? Tell us about it.
Haha. I am a side hustle.
My newest creative practice I suppose is my collage work. That only really came about during lockdown, but it's such a beautiful way to pass the time. I love the process of going through old reference books and discarded magazines, finding images that catch my eye or seem to hold some kind of meaning, and then giving them a new context, a new world to inhabit. It's long and intricate and something I can get lost in, I love it.
What are you reading or binge-watching?
I'm reading Jerusalem by Alan Moore, and have been for at least a year. It's enormous – literally but also in scope. It's like a mythological history/multidimensional past/future/now love letter to Northampton, and I'm reading it slowly so it never ends. I've also just started Emma Dabiri's new book, What White People Can Do Next which I am thrilled exists. It's an antidote to the way that discourse around race and racism is getting stuck in its entanglement with online performative culture, deliberately stoked by those who want a culture war. It connects the history of race with the broader history of oppression under capitalism and suggests that what we need is coalition between groups with differing ideas and agendas, but united through identification of common enemies and goals. And then, lastly, I just finished re-binging Breaking Bad which I was delighted to find still very much stands up. The characters and themes are so deep and broad, and taken as an exploration and allegory of toxic masculinity it's just bang on. Excellent writing and magnificent acting.
Are there any events or exhibitions you'd recommend at the moment?
I love that Margate Arts Club is programming the Sundeck this summer. High vibes. I'm also excited to check out Super Cool Drawing Machine at Elsewhere when I get the chance. It's an exhibition of artwork made by musicians, which as you can imagine I think I might resonate with. I'm excited to see what they've all been up to away from the stage.