About us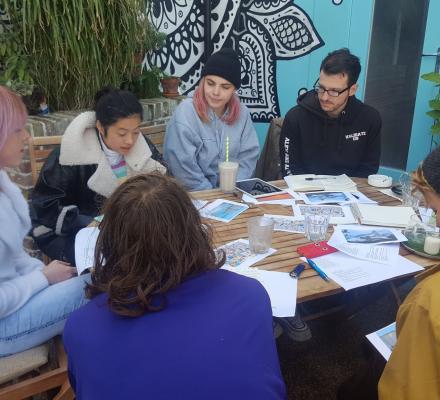 Understand our process and approach.
Co-relate is a content and co-creation consultancy.
We're a social enterprise offering audience-focused writing and editing, photography, strategy and facilitation.
Co-relate is a content and co-creation consultancy and social enterprise. We offer writing, editing, photography, design, strategy and facilitation. Set up to benefit Thanet's creative and cultural community, we work in partnership and collaborate across Thanet and beyond to increase creative opportunities for young people and diverse communities.
In all our work, we want to reach out to audiences through co-creation and user involvement. We use our communication skills to support the arts, share learning across the health and social care sector and act on the climate emergency.
Who is Co-relate?
Jessica Rose has worked with communities in London and Margate for more than 10 years, delivering co-creation projects to build creative and communication skills with young people and marginalised adults. Jon Spencer and Daisy Kelly-Grainger joined her in January 2018, bringing photography, graphic design, facilitation and evaluation skills to the team. In 2021 Tanya Royer joined as co-director and we became a Community Interest Company (CIC). We work alongside local photographers, writers, illustrators and brand specialists to make an impact in communites.
Why choose Co-relate?
Embedded in the Margate community, working on outreach and volunteer co-ordination for Margate Bookie literary festival and supporting Social Enterprise Kent, Ageless Thanet and Shop Front Margate.

Strong understanding of the arts and creative sectors, working with artists, designers, photographers, poets and other agencies in Kent and London.

Exceptional editorial experience with Jessica Rose and Tanya Royer offering writing and editing services to the Health Foundation, Brighton Festival and more.

Track-record of co-creating projects with young people and marginalised adults, including Creative Digital Careers, the Big Issue Online Journalism Programme, BBC Hackney Academy, Discover Young Hackney, Peabody Staying Safe Project and Camden Council's youth board (now part of The Hive).
Find out more about our services.
Meet some of our staff and freelancers and see how we work.
Contact [email protected] or phone Jess on 078 9145 8717.