Margate Bookie
Reaching new audiences and engaging through co-creation.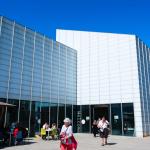 Volunteer co-ordination and event support.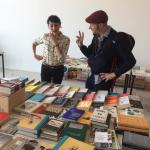 Supporting The Margate Bookshop and Seadog.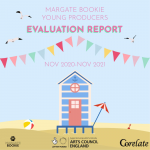 Providing evaluations for a range of funded projects.
Workshops to reach diverse groups in our community.
Co-relate has been working with Margate Bookie to bring people together through books for the past five years. Margate Bookie runs an annual literary festival and regular events with readings, workshops and interactive sessions at venues on Margate's harbour and in the Old Town, including the Turner Contemporary. We've provided a mix of paid-for and pro bono (free) services to Margate Bookie to support their outreach efforts with the local community.
From November 2019 to November 2021, Co-relate partnered with Margate Bookie to pilot the Margate Bookie Young Producers. This was an opportunity for young people 18-30 to produce their own literary events, gaining valuable experience, contacts and work for their portfolios. Find out how it went on our young producers' page. We also collaborated to showcase a new project - The Feedback Machine - at Disrupt Festival 2021.
Our director Jess has played an active part in selecting and editing pieces for the Margate Bookie Zine project. Supported by Arts Council England, the Zine project began in 2020 at the start of the pandemic to offer new and established writers and artists a way to continue to share their great work. The Great Indoors, Reset, and The Open Arms have opened up opportunities in Margate to established and emerging creatives internationally, receiving submissions from across the UK, US, Europe, Asia.
In 2019 we connected with schools and a range of community groups to bring a diverse range of audiences to an incredibly exciting live November Bookie, coinciding with the Turner Prize coming to Margate. 
In 2018 we produced a brochure to promote the Bookie's Poetry Journey workshops to new audiences and delivered a zine-making workshop to young people working with the Princes Trust.
Find out more about our co-creation services and see what Margate Bookie is doing on their website.